List of Tattooers that shared some Notches with us at Fort Notch…
Theo Jak, Steve Tiberi, Don Juan, Robert Gorlt, Tom Hanke, Hans Jörg Pobudeck, Benjamin Benson, Rob Hostetter, Goran Lazec, Fiona Coogan, Evelyne Roth, Milly Loveknuckels, Bernie Shaw, Darby Tuhaka, Jason Primrose, Elvis, Adam Ciferri, Bennie Darko, Bryan Zevenink, Xander Trip, Neena Jay, Silket Trunz, Jim Gallagher, Steve Daly, Glenn Schon, Feo Berumen, Campbell Alexander, Ars Punx, Lina, David Bremer, Basti Ketu, Alex Newey, Loui Tuhaka, Seth Singletary, Jason Forney, Davi Escobar, Mauro Montezuma, Fabrice Taeb, Aaron O´Leary, Horiyen, Suluape Pili Mo'o

---
Auftakt unserer Ausstellungsreihe 2019: Zwei befreundete Künstler aus dem ehemaligen Jugoslawien. Die Liebe zum Zeichnen führte Goran und mich zu Beginn der 1990er-Jahre zusammen. Da keiner der Sprache des Anderen mächtig war, verständigten wir uns zu Beginn der folgenden 12-jährigen Zusammenarbeit nur über Zeichnungen. Danijel lernte ich auf Ausstellungen im Ruhrgebiet in den vergangenen Jahren kennen und auch bei ihm brennt die Leidenschaft für das Zeichnen, wie bei Goran. Im vergangenen Frühling wurden die Zwei bei uns im Fort einander vorgestellt und sie begegneten sich direkt wie alte Bekannte. Daraufhin entstand der Wunsch die tollen Arbeiten dieser beiden Asse hier zu präsentieren.
Danijel und Goran setzen die Tradition großartiger Talente der Zeichenkunst vom Balkan fort. Ihre Möglichkeiten in verschiedensten Techniken sind umwerfend. Wir freuen uns auf einen bunten Abend mit Blaskapelle, Balkanmusik, Cevapcici und Djuvec-Reis zur Eröffnung dieser Ausstellung am 04.05. 2019 ab 17.00 Uhr.
Kicking off our series of exhibitions at Fort Notch in 2019 with two artists from former Yugoslavia. I first met Goran in the early 1990's. Since neither of us could talk each other's language, it was the love for art and drawing, that enabled us to communicate at the beginning of our working relations, that lasted for twelve years.
Danijel crossed my path several times in the past couple of years at various exhibitions in the Ruhr region. I could quickly tell he is sharing the same passion. This past spring, I was able to introduce both of them to each other during an event at our Fort and they directly seemed to understand as old friends. Shortly after, the idea to show the brilliant work of these two aces, grew.
Danijel and Goran carry on the tradition of great master artists from the Balkans. Their possibilities in various techniques are stunning and we sure are looking forward to a grand opening on May 4th
with a Balkan Brass band, Cevapcici, Djuvec Rice and great Art!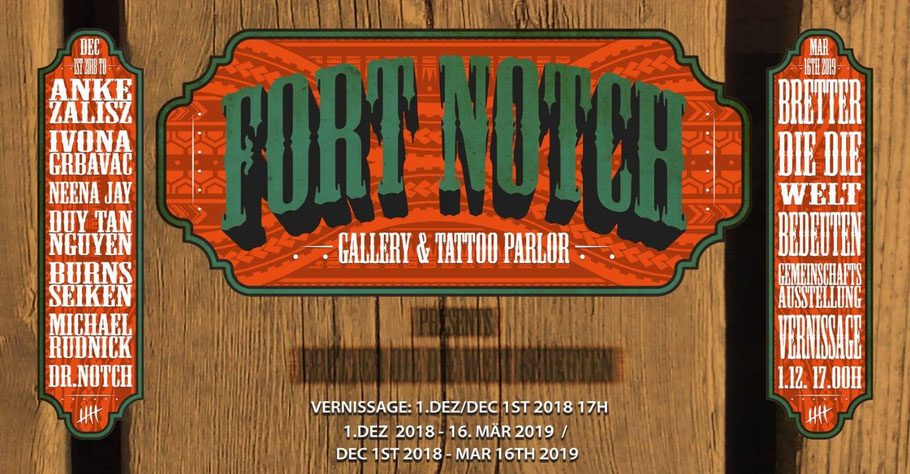 Vernissage 1.12.2018 ab 17.00
Anmeldungen bitte per E-Mail unter "fortnotch@top-notch.org"

In einer gemeinsamen Ausstellung zeigen sechs Tätowierer und ein Spezialeffekt Techniker die gesamte Bandbreite ihrer kreativen Möglichkeiten mit verschiedenen Werkstoffen.
Diese internationale Gruppe, von denen die meisten ihren Lebensmittelpunkt im Ruhrgebiet haben, stellt in dieser Ausstellung, auch die Verbindung des Werkstoffes Holz mit der Tätowierkunst her. So wie viele erstmalige Besucher des Ruhrgebiets diesen Teil der Republik völlig anders vorfinden als erwartet, weder grau noch trüb, versteht auch diese Ausstellung zu überraschen. Es sind nicht nur typische Tätowiermotive zu erwarten, sondern ein Feuerwerk an Vielseitigkeit der teilnehmenden Künstler.

Ausstellung geöffnet bis zum 16. März 2019
Besuchbar immer Donnerstag und Freitag von 16.00 -20.00 oder nach Terminvereinbarung.




Vernissage 1.12.2018 starts 17.00
Register for the Vernissage please... "fortnotch@top-notch.org"

Six Tattooers and a Special effects Technician showing the range of their creative possibilities with various materials. This international crew, which most are residing in the Ruhr Area these days, is also showing the ties between wood and tattooing in this exposition. Like most first-time visitors of the Ruhr Area find a totally different deal they expected, this Art show will understand to surprise. Instead of typical Tattooing related arts, a firework of artistic versatility will be on display.

Exhibition open till 16th of March 2019
Visiting hours Thursday and Friday 16.00 to 20.00 or by appointment
---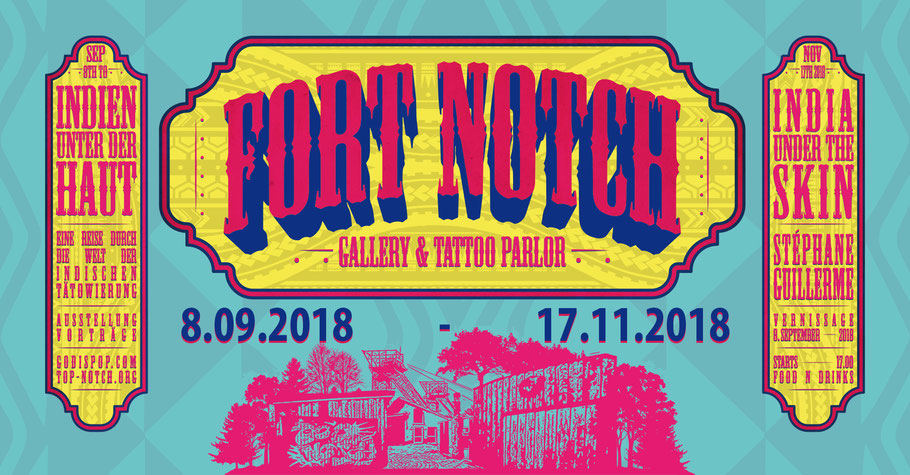 …not just under my skin I had India, after riding my motorbike, the White Elephant there, from August 2014 to January 2015 for over 16.000km. Deeply impressed by unknown culture, the highest passes in the world, really good and spicy food, unutterable curious and hospitable people, I got to meet the French Author Stéphane Guillerme, in the austere suburb Gurgaon, close to New Delhi in November 2014.
We realized quickly, that we were traveling in India for the same reasons-
we were searching for tattooed people.
Stéphane was investigating the last bit of information, needed to finalize his Book about tattooing in India, that he had been working on for over half a decade. I myself was trying to not get lost in the flood of impressions and experiences of a motorbike traveller, that had been trying his best, to survive the everyday madness of India's traffic.
Through Stéphane I learned a lot about indigenous tattooing in India, I was able to continue my journey with a different point of view.
After my return to Europe late 2016, I received Stéphane's book "India under the Skin" – delighted by his work, that documents millenniums of tribal culture, tattooing on carnivals and rural street conditions or public festivals, together with the highlights of todays modern tattooing in India.
In matchless portraits Stéphane shows the variations of tattooing in India. A lot of his skill full photographs are the last witnesses of a vanishing culture. He is showing peoples stories and their tattoos. Images that proverbially go under the skin, authentic and unfiltered. The last witnesses of ancient traditions, who's patterns in their skin, the myth and legends about them, will disappear forever, with their passing.   
At Fort Notch we are delighted to present these unique stories and images from India for the first time in Germany. For the Vernissage on September 8th, Stéphane will give a multimedia live talk on his
experiences in India.
On October 6th starting 19.00, Dr.Notch will show previously undisclosed film and photographic material of thousands of kilometres through varying landscapes and cultures of India. He will carefully select the best anecdotes, of this most challenging country to ride the White Elephant, during his two-and-a-half-year circumnavigation of this planet. 
For the Vernissage on September 8th 2018 and for the talk on Oct.6th 2018 we kindly ask you to announce your appearance via E-Mail at

fortnotch@top-notch.org

Exhibition India under the Skin at Fort Notch by Stéphane Guillerme September 8th to November 17th 2018, every Thursday & Friday 16.00-20.00 or by appointment.
More Info on the work of Stéphane Guillerme – www.godispop.com
…nicht nur unter der Haut hatte ich Indien, nachdem ich dort, von August 2014 bis Januar 2015, auf dem Sattel meines Weißen Elefanten über 16.000 km zurückgelegt hatte. Tief beeindruckt von mir zuvor fremden Kulturen, den höchsten Passstraßen der Welt, von sehr gutem und scharfem Essen, von unbeschreiblich neugierigen und gastfreundlichen Menschen, lernte ich den Französischen Autor Stéphane Guillerme in Gurgaon, einem schmucklosen Vorort von Neu-Delhi, im November 2014 kennen. Schnell wurde uns klar, dass wir aus denselben Motiven durch Indien reisten - wir waren auf der Suche nach Tätowierungen.
Stéphane recherchierte, um an letzte, noch fehlende Informationen zur Fertigstellung seines Buches, über die Tätowierung in Indien, zu gelangen, an dem er bereits seit einem halben Jahrzehnt arbeitete. Ich versuchte mich irgendwie zurechtzufinden, in der Flut an Eindrücken und Erlebnissen eines Motorradreisenden, der seit Monaten, im täglichen Verkehrschaos Indiens, sein Leben riskierte.
Aus den Berichten Stéphanes erfuhr ich viel über die indigene Tätowierkultur Indiens und konnte meine Reise, nach unserem Treffen, mit ganz anderen Augen fortsetzten.
Nach meiner Rückkehr, Ende 2016, erhielt ich Stéphanes Buch "Indien unter der Haut" und ich bin noch heute begeistert von seinem Werk! Er dokumentiert eine jahrtausende alte Stammeskultur, das Tätowieren auf Jahrmärkten und Volksfesten, sowie die Ursprünge und Hochburgen der heutigen, modernen Tätowierung in Indien.
In einmaligen Portraits gelingt es Stéphane, die Variationen der Tätowierung Indiens, darzustellen. Viele seiner Bilder sind die letzten Zeugen einer verschwindenden Kultur. Gezeigt werden die Geschichten von Menschen und ihren Tätowierungen, Bilder die sprichwörtlich unter die Haut gehen, authentisch und ungefiltert. Es sind die letzten Vertreter einer uralten Tradition, deren Muster in ihrer Haut und die Legenden darum, mit ihrem Ableben für immer verschwinden werden.
Wir freuen uns, diese Bilder und Geschichten Indiens erstmalig in Deutschland, präsentieren zu dürfen.          
Zur Vernissage am 8. September 2018 im Fort Notch wird Stéphane persönlich zugegen sein und am Abend, in Wort und Bild, über seine Erlebnisse berichten.   
Am 6. Oktober ab 19.00 Uhr, wird Dr. Notch ein zweistündiges, multimediales Special über seinem Aufenthalt in Indien vortragen. Dabei wird er aus seinem bisher unveröffentlichtem Material über tausende von Kilometern durch unterschiedlichste Landschaften und Kulturen Indiens berichten und die zu seinen Bildern und Filmen dazugehörenden Anekdoten zum Besten geben.
Zur Vernissage am 8. September 2018 und zum Vortrag am 6. Oktober 2018 bitten wir um Anmeldung per E-Mail unter   
                                                         fortnotch@top-notch.org    

Ausstellung Indien unter der Haut im Fort Notch von Stéphane Guillerme vom 8.September bis 17.November immer, Donnerstag und Freitag von 16.00 bis 20.00
oder nach persönlicher Vereinbarung
Mehr Info zur Arbeit von Stéphane Guillerme – www.godispop.com
---
Einladung zur Premiere der Kunstausstellungen, die ab Mai 2018 im Wohnzimmer des
"Fort Notch", der Heimat von Top Notch Tattooing in Marl, Ruhrgebiet, in regelmäßiger Folge geplant sind. Nach fast drei Jahrzehnten des Tätowierens und Kreativseins mit Künstlern aus aller Welt, nach unzähligen Kilometern auf Reisen die manchmal Jahre währten und dem Austausch mit Kulturen fernab von unserem Alltag, möchte ich nun das Erlebte und einige der speziellen Menschen sowie deren Arbeit, die mir auf diesem Weg begegnet sind, in meinem Wohnzimmer fortan in Form von Kunstausstellungen präsentieren. Den Auftakt macht am 5.Mai 2018 mein Freund Johannes "Elvis" van den Bussche aus Hamburg.
Elvis, den ich während seiner Zeit bei Endless Pain, einem alt eingesessenen Tätowierstudio in Sankt Pauli, kennenlernte, hat in den vergangenen Jahren immer wieder mal als Gastkünstler bei uns gearbeitet. Bei verschiedenen Reisen im Südpazifik sind wir uns einige Male über den Weg gelaufen.
Elvis geht beim Tätowieren und in seiner Malerei seinen eigenen, persönlichen Weg und folgt nicht irgendwelchen Trends, wie die große Masse in unserem Beruf. Neben dem Tätowieren und der Malerei waren die Meditation und die Kampfkunst auf hohem Niveau, seine größten Leidenschaften der vergangenen Jahre.
Während der Ausstellung die vom 5.5. bis zum 4.8.2018 währt, wird Elvis Seminare zu den drei Themenbereichen seiner Ausstellung geben: Kunst, Meditation und Gewalt.
Details dazu und wie ihr an diesen Seminaren bei Interesse teilnehmen könnt, findet ihr in dieser Einladung.
Es würde mich freuen euch zahlreich zur Vernissage am 5.Mai ab 17.00h begrüßen zu dürfen… für euer leibliches Wohl wird gesorgt! Über eine kurze Nachricht per E-Mail, ob ihr dabei seid, wäre ich dankbar!
info@top-notch.org

Invitation to the premiere of Art Exhibitions, starting from May 2018 in the living room of "Fort Notch", home of Top Notch Tattooing in Marl, Ruhr District, Germany. After tattooing for almost three decades and being creative with artists all over the world, after countless miles on journeys around the planet that some of them continued for years and the exchange with cultures far away from our daily life, I would like to share some of the experiences and people I had the pleasure of meeting along my way. The start to a series of Art Shows in my living room will be made by my friend Johannes "Elvis" van den Bussche from Hamburg. Elvis, who I first met while he was working at Endless Pain, a long time existing studio in Sankt Pauli, has worked as a guest artist with me many times in the past years. Our paths crossed several times in the South Pacific while traveling there. Elvis has always developed his own work in tattooing and his painting, he sure follows no trend, which sets him apart from the masses of the trade. Besides Tattooing and Painting, Meditation and Marshall Arts on a high level have been his big passions for the past years. I am glad to announce that Elvis will give three seminars throughout the duration of his exhibition here from May 5th to August 4th, that are based on the three topics of his exhibition: Art, Meditation and Violence. Further details on these seminars and how to participate can be found in this invitation. I would be happy to meet many of you during the Vernissage of Fort Notches first Art Show on May 5th starting at 5pm… I will spoil you with good food and cold drinks!
 A short notice via email to "info@top-notch.org" if you can make it, would be appreciated!